LATEST NEWS
---
Pile repair spacers awarded U.S. patent 2021-01-22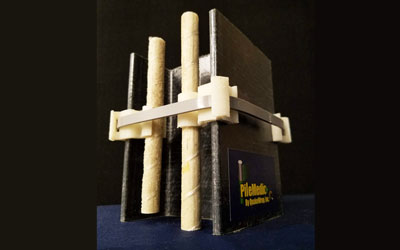 Assorted spacers used by PileMedic to repair and rehabilitate marine piles and columns recently received a U.S. Patent. Spacers are used to repair timber piles and steel h-piles, like the sample pictured here.

U.S. Patent No. 10808412 - Spacers for Repair of Columns and Piles covers important accessories used by QuakeWrap to install the PileMedic® repair system. The patent was issued to QuakeWrap President and CEO Prof. Mo Ehsani, Ph.D., P.E., S.E.

"These spacers are valuable in saving time and money, and for improving the quality of construction for our clients," said Ehsani, who is Centennial Professor Emeritus of Civil Engineering at the University of Arizona.

Exact placement of reinforcing materials such as FRP rebar, and maintaining specified distances between the structure and the specialty laminates, are time-consuming tasks that challenge the efficient repair of columns and piles. The problem is even more consuming for underwater repairs, Ehsani says.

More information on the PileMedic® marine pile and bridge column repair system can be found here.

Memphis Area Transit Authority implements CFRP service ramps 2020-12-09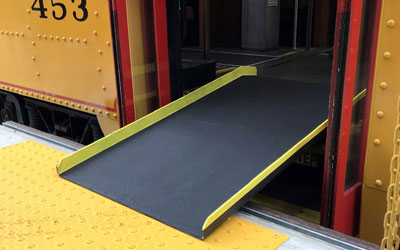 The Memphis Area Transit Authority (MATA) deploys new carbon fiber service ramps on its rail trolley cars using an extremely durable, lighter weight material traditionally used to reinforce concrete buildings and bridges. More than 60% lighter and three times stronger than metal ramps, the new composite ramps bridge the gap between the rail trolley and station boarding platform area, and are easily lifted and put into place by trolley operators.

"This is another application of CFRP that benefits the public," says Mo Ehsani, president and CEO of QuakeWrap Inc. (Tucson, Ariz., U.S.) and Centennial Professor Emeritus of Civil Engineering at the University of Arizona.

Read the rest of the story in Composites World magazine here.

QuakeWrap Wins Federal Research Grant to Explore Gas and Oil Pipeline Repair 2020-06-12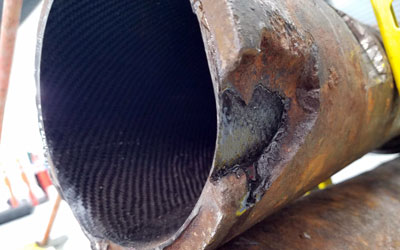 Tucson-based QuakeWrap Inc. is the recipient of a federal research grant from the U.S. DOT to explore a greener, less intrusive repair method using fiber reinforced polymer (FRP) for larger gas and oil pipelines.

"No-Dig Point Repair Technology for Steel O&G Pipelines," recieved a U.S. DOT SBIR Phase 1 grant in the research category of "Internal Repair of Steel Transmission Pipelines (20-PH2)." This is the first SBIR award from the U.S. Department of Transportation for QuakeWrap. Previous small business research awards won by QuakeWrap were from NSF, U.S. EPA and the USDA.

The technology has the potential to repair large pipelines that transport oil and gas from the inside using FRP to reduce, and in many cases eliminate, required excavation to repair pipes conveying hazardous fluids.

Read the company announcement here.

Latest in penstock repair at Hydropower 2020 2020-03-03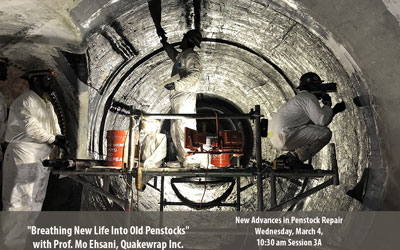 QuakeWrap President/CEO Prof. Mo Ehsani presents the latest repair techniques for steel and concrete large penstock at CEATI Hydopower 2020 in Palm Springs on Wednesday morning at 10:30 a.m.

Mo will be giving details on both riveted steel and concrete penstock repairs, successful rehabilitation projects with minimal service interruption and adding extended service life for stations.

More information on the Hydropower 2020 Conference can be found here.

More information on the repair of penstock and other large water conveyance systems using fiber reinforced poymer (FRP) can be found on the PipeMedic by QuakeWrap website here.

Tech News: QuakeWrap gets EPA funding to develop new pipeline fix 2019-08-02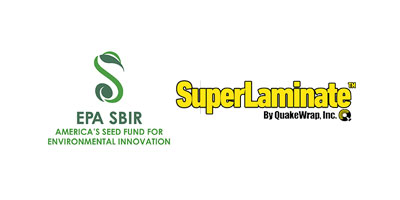 An infrastructure innovation coming out of the research labs of Arizona-based QuakeWrap, Inc., and promising to help solve a major problem in city drinking water systems, has received federal funding from the research arm of the U.S. Environmental Protection Agency (US EPA).

The proposal, "Trenchless Water Main Point Repairs with SuperLaminate," will explore the use of specialized fiber reinforced polymer (FRP) laminates for repair of water main leaks that cost cities and counties millions of dollars a year in drinking water loss.

The new repair method, if successful, will stop identified leaks in city main water pipes without the need for expensive excavation. Get the latest on this innovative water main repair from the PipeMedic by QuakeWrap website.

QuakeWrap founder and FRP pioneer awarded ASCE Life Member status 2019-05-24
A pioneer in the application of FRP composites to repair and renew global infrastructure has been awarded Life Member status by the American Society of Civil Engineers (ASCE).

Prof. Mo Ehsani, president and CEO of QuakeWrap Inc., is an ASCE Life Member in 2019. The prestigious recognition is awarded to civil engineers who've made a lifetime commitment to ASCE and the civil engineering profession by maintaining an active membership for the full length of their professional career. Mo has been an ASCE member since his days as a young civil engineering student at the University of Michigan, then as a faculty member at the University of Arizona.

More information can be found on the original QuakeWrap news relesase here.

PipeMedic repair system helps win Trenchless Project of the Year 2018-11-04

A QuakeWrap innovation solves a major infrastructure repair problem, this time helping repair a large gas pipe in New Jersey. Congratulations is deserved for everyone involved with this Project of the Year- Rehabilitation recognition from Trenchless Technology magazine.

The PipeMedic® carbon FRP laminates used in the project – also known as SuperLaminate™ - is a patented product developed by Prof. Mo Ehsani, President, QuakeWrap, Inc. The laminate is only 0.024 inches thick, but is stronger than steel. Contact us at info@quakewrap.com for more on this super strong, versatile pipe repair solution.

InfinitPipe gets USDA boost for its sustainability, agriculture potential 2018-04-17
(InfinitPipe.com) -- The very first green and sustainable pipe has been awarded a $100,000 federal research grant to explore its potential as a sustainable yet durable resource for agriculture.

"InfinitPipe: An Economical Sustainable Pipe for Agricultural Use," a proposal submitted by QuakeWrap, Inc. describing this new game-changing pipe technology, is the winner of a support grant from the U.S. Department of Agriculture's (USDA) National Institute of Food and Agriculture (NIFA). QuakeWrap is the only company from Arizona to win the grant.

"The relatively simple construction technique of InfinitPipe will allow farmers to purchase the raw materials and lease the equipment to build the pipes they need," said Dr. Mo Ehsani, principal investigator of the proposal and a pioneer in the introduction of fiber reinforced polymer (FRP) products for repair and strengthening of structures since the late 1980s. FRP is the major component used in the construction of InfinitPipe, and the USDA-supported research focuses on the unique construction and feasibility as an impermeable pipe which can be made readily available for agricultural applications.

Find more information on the InfinitPipe.com website here.

Infrastructure Repair Specialist FRP Construction Achieves Significant Safety Milestone 2017-12-19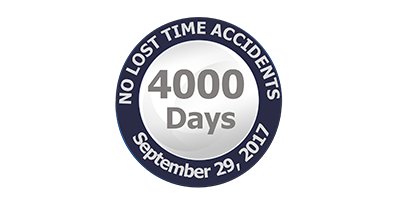 FRP Construction LLC, a specialty contractor that regularly finds itself in utility tunnels, under bridges and piers, under freeways, inside roadside culverts and much more, has achieved a significant and rare safety milestone: 4,000 days with no time lost from accidents.

A lost time accident is a U.S. Occupational Safety and Health Administration (OSHA) recordable incident in which an employee is not able to return to work or is assigned restricted work on the day or shift following the incident.

"Safety is a fundamental principle of our operations, and the methods we use to ensure safe work are addressed on each one of our unique installation projects," says Adam Sedgeman, PE, MS, and Vice President of FRP Construction.

Founded in 2006, FRP Construction, LLC, specializes in repair and restoration of structures using Fiber Reinforced Polymer (FRP) products. These FRP products are supplied by a variety of manufacturers, including QuakeWrap, Inc.

Recent FRP Construction repair jobs include utility tunnels under the University of Arizona, freeway underpasses on I-17 for ADOT in Phoenix, cooling tower maintenance at the Palo Verde Nuclear Generating Station for APS, and steel bridge column repairs for the Indiana DOT.

More information about FRP Construction can be found here

Arizona DOT uses QuakeWrap to strengthen, upgrade bridge status 2017-07-19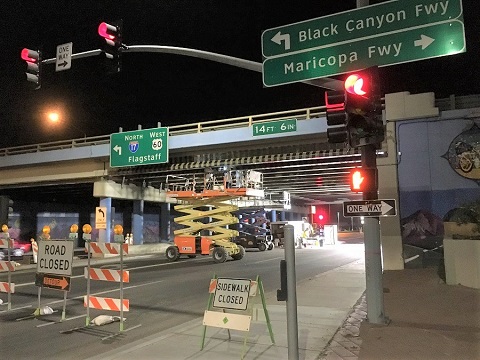 The Arizona Department of Transportation (ADOT) recently announced it used carbon fiber strips that are "coated and strengthened with a reinforcing polymer" to fix girders on two state highway bridges in Phoenix. According to ADOT, one of those bridges is no longer listed as structurally deficient as a result.

QuakeWrap strengthening was applied to two bridges: The overpass at I-17 and Jefferson Street -- not considered structurally deficient – and the 19th Avenue overpass, which earlier had been labeled the most-traveled structurally deficient bridge in the state by the American Road & Transportation Builders Association. The bridge's status has since been upgraded.

"Our ADOT Bridge Group focuses on using new and innovative bridge-repair technologies that enhance safety while saving time and taxpayer dollars," ADOT Senior Bridge Engineer William Downes told Composites Manufacturing magazine. "We're likely to use it again if and when repairs are needed."

See the positive media response to using advanced composites for infrastructure repair such as freeway bridges here.

How carbon fiber repaired and strengthened 90-year-old steel penstock to be featured at HydroVision 2017 2017-06-22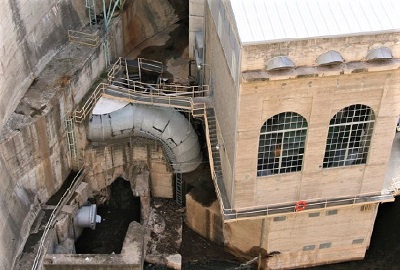 One of the strongest fiber reinforcement materials known to engineers was used to make repairs to a hydroelectric dam serving millions of customers in Central Arizona, and the details of this repair will be presented at this year's HydroVision International 2017 conference in Denver.

"Repair of Riveted Steel Penstock in Mormon Flat Dam with Carbon FRP," will be presented by the pioneer of the technology of using FRP to repair and strengthen large structures and pipes, Dr. Mo Ehsani, Centennial Professor Emeritus of Civil Engineering at the University of Arizona. Ehsani is also currently President and CEO of QuakeWrap, Inc., the developer of innovative fiber reinforced polymer (FRP) repair solutions used for infrastructure renewal.

The penstock repair using FRP presentation is scheduled as part of Hydrovision's "Systems and Technology: What's New? What Works?" technical session, which features a group of industry specialists providing experience and lessons learned from a variety of applications, from tunnels and penstocks, to cloud applications.

The presentation is scheduled for Thursday, June 29 at 11 a.m. More information on this presentation is on the HydroVision website here. View the original announcement from QuakeWrap, Inc. here.

Army and Navy Divers implement PileMedic at Pearl Harbor Demonstration 2017-03-24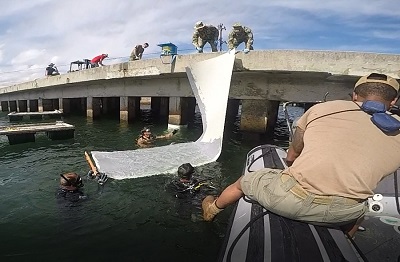 QuakeWrap, Inc. was proud to take part in a Joint Capability Technology Demonstration (JCTD) with the U.S. Transportation Command and U.S. Pacific Command (USPACOM). The demonstrations, in Pearl Harbor, Hawaii, involved U.S. Army and Navy divers implementing the U.S. Army Corp of Engineers PIER program. PIER allows for repair of a damaged structure within days instead of months, or even years, which in turn supports a variety of missions. Pier pilings were repaired with QuakeWrap's PileMedic product to demonstrate the equipment's use in the field.

"This is a culminating demonstration of a two-week assessment of novel pier repair capabilities," said Kawakahi Amina, an Operational Manager with PACOM Logistics, Plans and Exercises, in a public PACOM news release.

You can read the PACOM news article, "Joint Team Demonstrates New Repair Technology to Benefit Indo-Asia-Pacific," here, or

See more of these in-water amazing pics of PileMedic by QuakeWrap in action on the QuakeWrap Facebook page here.

SPiRe® sheet pile repair system debuts at Underwater Intervention 2017 2017-02-22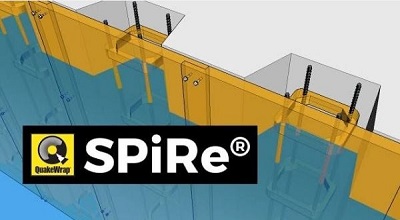 The most efficient method of repairing and restoring corroded steel sheet piles and seawalls using FRP technology from PileMedic® makes its debut at the premier event for ocean engineering and marine development. Read the corporate announcement from QuakeWrap, Inc..

PileMedic® professor shows new methods of repairing underwater piles, pipes and seawalls using FRP composites at UI 2017 2017-02-15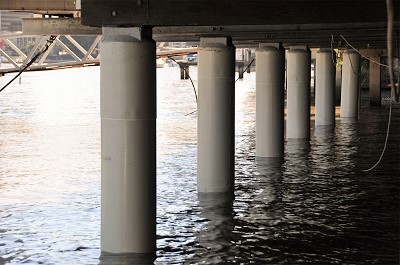 Underwater Intervention 2017, a commercial marine services conference known for attracting underwater engineering innovations, will host a presentation by PileMedic® inventor and QuakeWrap, Inc. President Prof. Mo Ehsani on new methods for repairing underwater piles, submerged pipes and steel sheet piles using FRP composites.
"New Innovative Carbon FRP Solutions for Repair of Underwater Infrastructure," is scheduled for Thursday, Feb. 23 at 10:45 a.m. in room 224 and will be an update of all the latest PileMedic® repairs and retrofits currently deployed throughout the world.
The presentation will give attendees insights on the latest applications of Fiber Reinforced Polymers (FRPs) for restoring and strengthening corroded pier and bridge piles, rusting steel sheet piles, leaking submerged pipelines and more. This 2017 overview will include the development of these technologies over the last several years and how applications are being used for real world infrastructure repair today.
The innovative PileMedic® technologies were developed by Ehsani and the team at QuakeWrap over the last several years, and represent significant cost and time savings for most underwater structural repair and restoration projects. These innovations and their related products include:
PileMedic® laminates for repair and strengthening of submerged piles
SPiRe® custom-made FRP panels for repair of seawalls and beams
PipeMedic® carbon and glass FRPs for external wrapping of corroded pipes, and
InfinitPipe® for internal lining of corroded subsea pipelines.
More information on Underwater Intervention 2017 can be found here.
More information on PileMedic and the QuakeWrap family of pile, column and seawall repair products can be found at PileMedic.com or by calling 520-791-7000