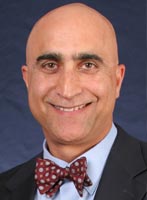 Dr. Mo Ehsani, P.E., S.E., is Centennial Professor Emeritus of Civil Engineering at the University of Arizona and President of QuakeWrap, Inc., headquartered in Tucson, Ariz. He is a pioneer in the development of structural applications of fiber reinforced polymer (FRP) technology and an internationally recognized expert on the subject. He has received B.S., M.S., and Ph.D. degrees from the University of Michigan. His research focuses on innovative solutions for infrastructure repair and renewal. His studies have been published in numerous academic and industry publications, including those published by ACI, ASCE, EERI and more.
Prof. Ehsani is a Fellow of the American Society of Civil Engineers (ASCE) and the American Concrete Institute (ACI). A past director of the Arizona Chapter of ACI, Prof. Ehsani has served as President of the Structural Engineers Association of Arizona. He is a registered professional engineer in multiple states including AZ, CA, FL, MD, and NY.
Prof. Ehsani has developed several unique products for repair and retrofit of structures with FRP; these products are subject to a large number of pending U.S. and International Patents. Some of these products can be viewed by clicking here.
Dr. Ehsani has also been featured on CNN, National Public Radio, the History Channel, and in other media, including Engineering News Record (ENR), for his expertise on strengthening of structures.